In Person: Making a Journal for Our Lives
With Pamela Hunter
April 27, 2023
Here is an opportunity to make every aspect of your practice of journaling be something that comes from your life.  In this one day workshop you'll make the book that will become your journal.  You'll be guided step-by-step from the creation of the hard-bound covers to the sewing together of the book.
Bring a sack lunch, an apron, some of your doodling, practice pages for art work, letters, lists or other scraps of your life with you, and wear old clothes.  If you are staying for an overnight retreat at the Spirituality Center, please register separately and lunch will be provided.
Facilitator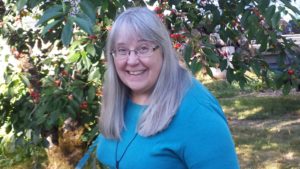 Pamela Hunter
Pamela Hunter is a Lutheran pastor from Forks, WA, calligrapher and book artist. She has been journaling for over a decade, and makes her journals by the process that she will share with you.
Learn more about Pamela Hunter