Zoom: Magnificat: Nurture in a Season of Distress Oblate Retreat
With Kathryn Rickert
December 4, 2021
Magnificat: A persistent profession of faith and hope in the face of grief, injustice, pride, fear, and hunger. In this retreat, we will immerse ourselves in this powerful Marian prayer, seeking words & images as to how this God-sent hopeful season of waiting- Advent- nurtures our lives now.
The words and image will become a set of four labels, one for each week of Advent,
and to be used with an Advent wreath at home.  We will prepare for our work with a little history, as to how and when this prayer is used among various Christian communities, and a bit of listening and singing various versions,
This day is an invitation into this season of hopeful waiting, with much quiet, calm and hope.
Facilitator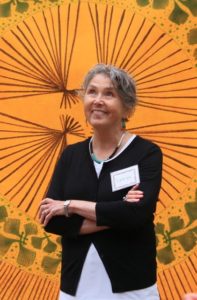 Kathryn Rickert
Inspired by the challenging depths of biblical spirituality in both the Old Testament and New Testament, Kathryn is a teacher, musician, liturgist, cook, theological artist, grandmother, and lover of Creation. She lives on Whidbey Island.
Learn more about Kathryn Rickert