Zoom: A Day with Merton's A Book of Hours
With Kathryn Rickert
November 13, 2021
This is a guided retreat of shared prayerful reading and reflection on the daily prayers  (Hours) for Dawn, Day, Dusk and Dark, selected from various days of the week, (not only Saturday), as found in Thomas Merton's, A Book of Hours.
This one day retreat will include 4 – 1-hr sessions. In each session we will read aloud and pray that Hour. The Hours of Day, Dusk, and Dark will begin with a brief time to collect our responses to the previous Hours, Dawn, Day and Dusk, with comments or questions to share our experiences of this prayer practice with each other.
Participants will be invited to take turns reading aloud,  If you are familiar with this way of praying and have a particular favorite Hour from one of the days of the week that you would like to have included, please let Kathryn Rickert know.
It is necessary to have a copy of Merton's, A Book of Hours for use on this day.
   4 Sessions 
              "Hours"     ZOOM TIME
  8 AM    Dawn        8 -9 am
10 AM    Day          10 -11 am
 4  PM    Dusk        4-5 pm
 7  PM    Dark         7-8 pm
Facilitator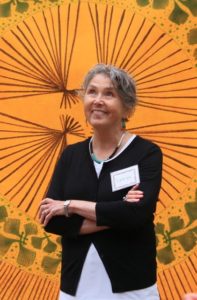 Kathryn Rickert
Inspired by the challenging depths of biblical spirituality in both the Old Testament and New Testament, Kathryn is a teacher, musician, liturgist, cook, theological artist, grandmother, and lover of Creation. She lives on Whidbey Island.
Learn more about Kathryn Rickert