Zoom: 7 Monastic Elements (That Work for Everyone)
With Sr. Anna-Camille Wooden, OSB
October 23, 2021
There are 7 monastic practices, taught in the Rule of St. Benedict, that are the building blocks for a healthy, sane life. In this workshop you will explore these practices and think about how to apply them in your life. A combination of facilitator presentation, group discussion, experiential learning and periods for reflection will help participants invite this ancient monastic wisdom to become their own.
Facilitator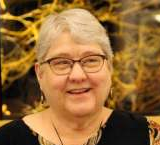 Sr. Anna-Camille Wooden, OSB
Sister Anna-Camille Wooden left the school system to enter the monastery after 40 years of public-school teaching.  As a member of the St. Placid Community, she is the Oblate Director,  a commissioned presenter of Centering Prayer through Contemplative Outreach. works in the priory archives and makes sure the bird feeders are full.
Learn more about Sr. Anna-Camille Wooden, OSB