Zoom-Be the Poem ~ Freeing Your Authentic Self Through The Power Of Poetry
With Cecily Markham
September 19, 2020
Engaging poetic imagery, art, and contemplative readings, we will explore the radiance, depth, and joy of what it feels like, what it is – to be your authentic self.
Perhaps we have all experienced, at least once, the awe of being with another human being who is wholly genuine, true to themselves, and to others. These moments are often healing and unforgettably inspiring.
In our time together, participants are encouraged to bring a poem, story, or reflective reading – and share the wisdom of their experiences with authenticity.
"Be The Poem….be every word in the poem, the words are not meant only to be read, but words incarnate…stars…beings of light….be the space between the words, be the clear voice of poem calling between the river and the mountain and the light, oh river sparkling…oh river light…
Be the horse in the poem, running full gallop drinking wind…Be the horse who never stops running through my mother's poems." – excerpt from Be The Poem ~ Cecily Markham
Facilitator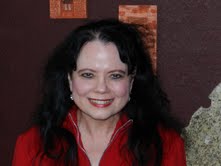 Cecily Markham
Cecily Markham is a national award-winning poet, painter, art installation and performance artist, and integrated arts educator. Cecily has presented poetry programs and arts presentations across Washington State and bi-coastally with other venues in California and Virginia. In May of 2020, Cecily had her art installation, Bride In The Wilderness, and painting, Playing with Light, published with https://avant-garde-art.com/art-under-quarantine and publication of her poem Mist, with the WA State Poet Laureate project, Poems to Lean On-https://wapoetlaureate.org/poetry-to-lean-on/. *A previous participant of one of Cecily's poetry programs writes, "… it was magical. Deeply moving and transformative, so creative!"
Learn more about Cecily Markham